Klever Weekly Newsletter - October 9
The Klever.io ecosystem has witnessed significant growth over the past week, including a new fiat on ramp with Simplex partnership, launch of the Referral Program & KLV listing on DigiFinex Exchange.
Simplex Partnership
Klever.io and Simplex.com announced a partnership to enable debit and credit card purchases of Klever (KLV) & other top cryptocurrencies in Klever App. With the Simplex partnership and imminent integration, Klever users will soon be able to buy Klever's native token KLV and dozens of other top cryptocurrencies directly and seamlessly with their fiat currency, utilizing credit and debit card payments as well as Simplex's advanced anti-fraud engine.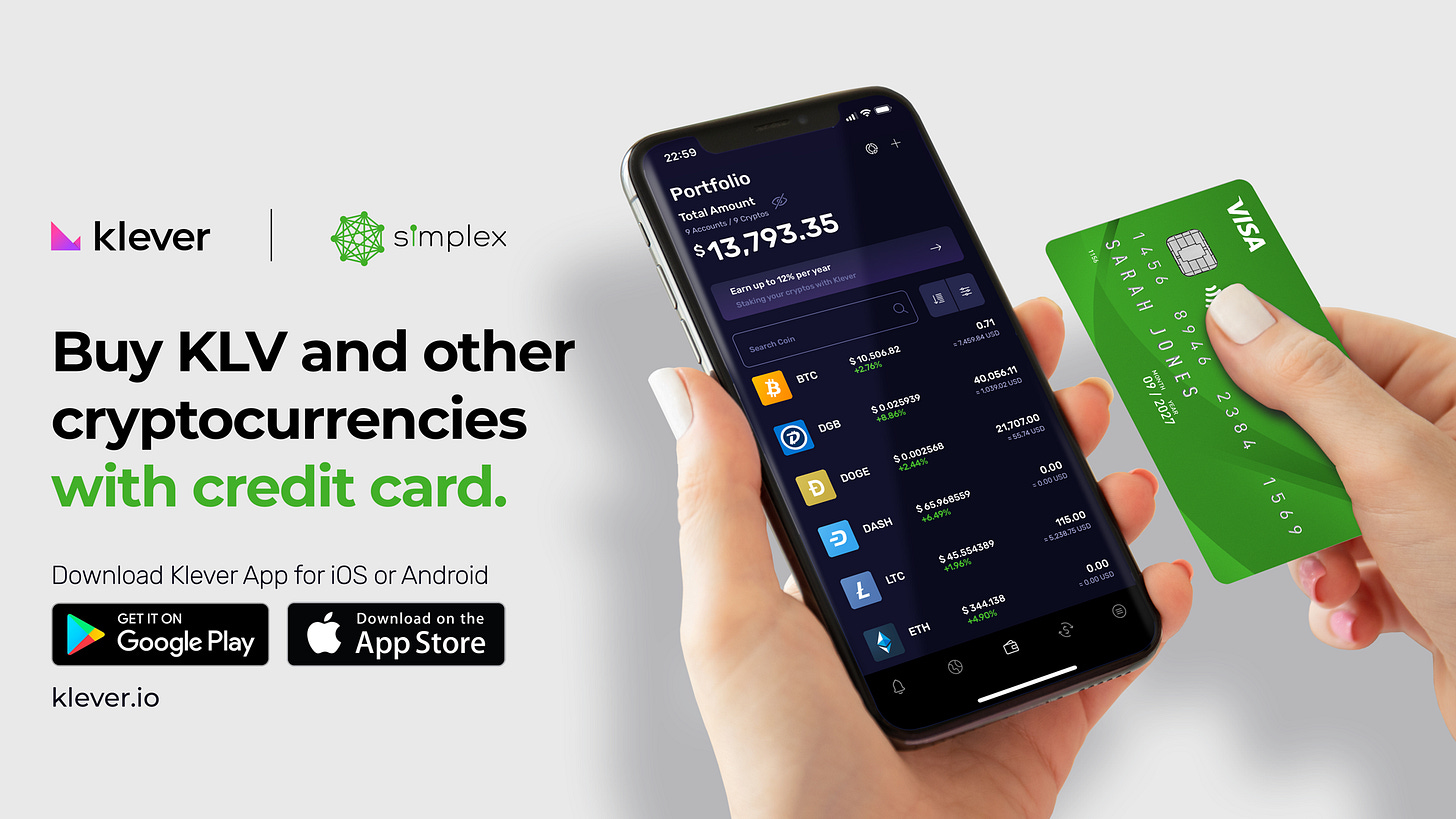 The leading payment processing platform throughout the world, Simplex gives users the ability to purchase crypto assets quickly and securely, no matter where they are. Simplex has provided global credit and debit card processing services, with zero chargeback guarantee, to the market leaders such as Binance, Bitrue, Changelly and Huobi. And now Klever.
---
Referral Program Launch - Update 4.0.8 Released
Klever users worldwide can now earn 50% of their invited friends' Swap fees with the launch of our Referral Program, which is accessible in Klever's new Update 4.0.8 that is available for download on both Android and iOS.
The principles of the Referral Program are very simple and gives anyone, anywhere in the world a great opportunity to earn a daily passive income through referral links by giving away 50% of all Swap fees for the first period.
Here are the simple steps on how to earn a daily passive income:
1. Download Klever App or update your Klever App to the latest version.
2. Open your Klever App
3. Go to Settings and click on "Invite friends"
4. Copy your link and share it with friends!
Simply make sure that your friends are downloading Klever to a new device, and creating a new account. It's really that simple.
The Referral Program is an exciting new feature as it gives all users an opportunity to earn and adds another major use case for the KLV token, since a majority of all Swap fees are paid in KLV and all other Swap fees are directly converted to KLV and paid out to users through the Referral Program.
---
Klever joins KuCoin's Safeguard Program
On October 2, Klever.io announced publicly its support for KuCoin.com, one of the world largest exchanges, following the hack against their systems, as well that Klever has been working with the KuCoin team to block and blacklist the hackers' addresses from using the Klever Swap. Klever also joined KuCoin's Safeguard Program to jointly prevent future security incidents.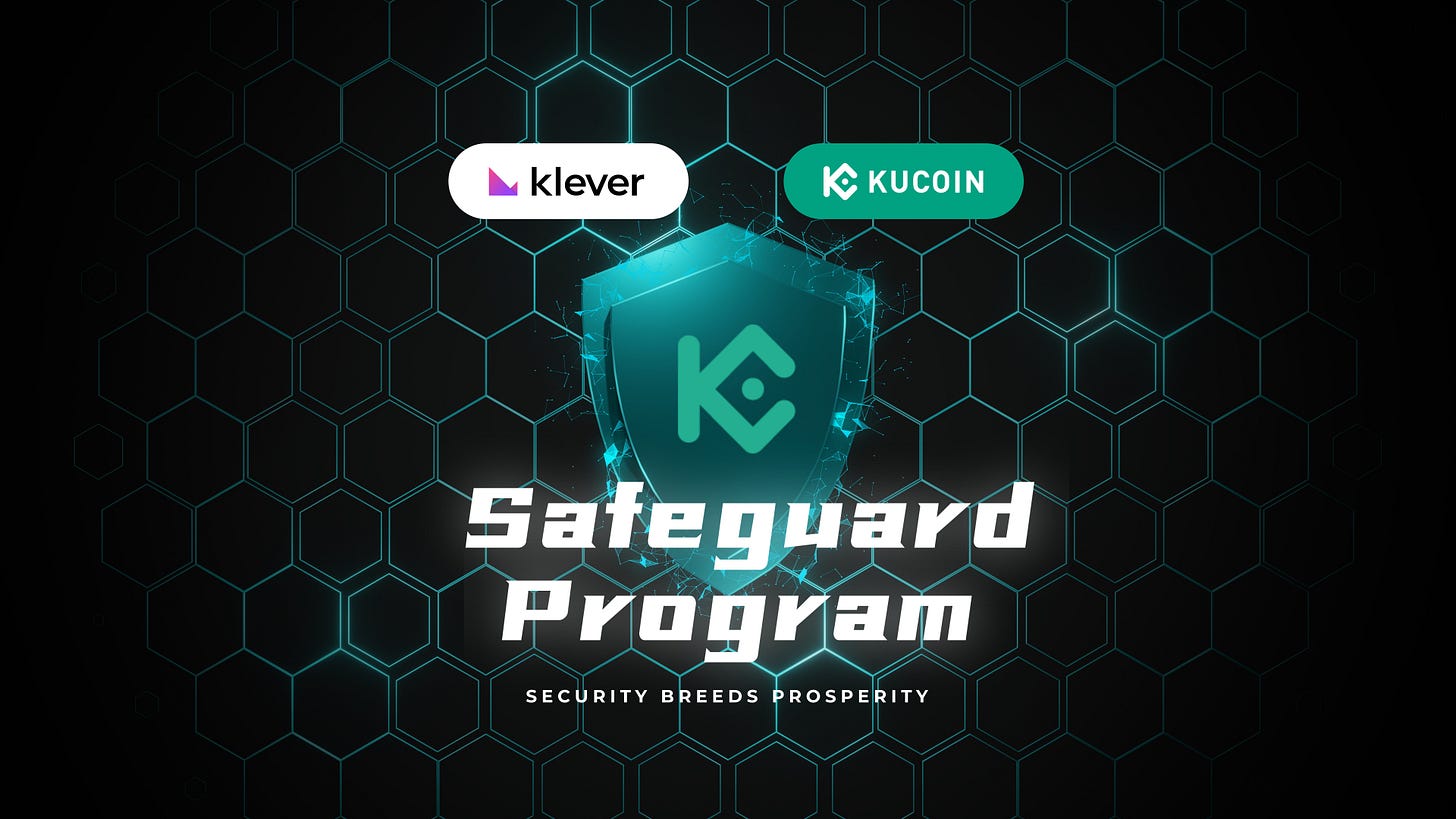 ---
KLV Listing on DigiFinex
KLV will be listed on DigiFinex Exchange on October 12, at 9am UTC, which was announced by DigiFinex and Klever alike. KLV will launch with two trading pairs: KLV/BTC and KLV/USDT, and KLV deposits open on October 12, at 3am UTC.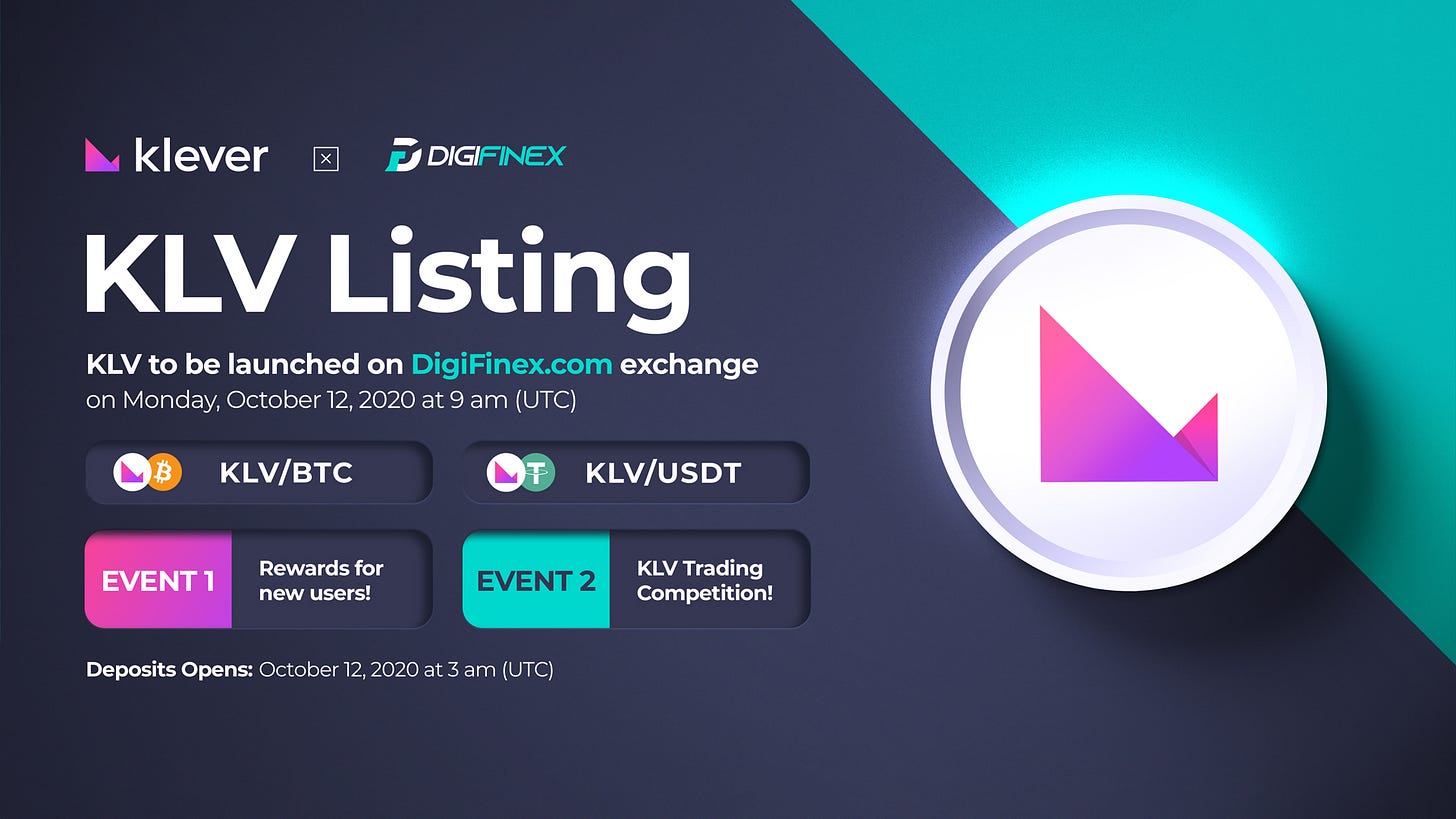 Singapore-based DigiFinex is one of the leading exchanges in Asia and Eastern Europe with over 4 million traders globally. DigiFinex is also a partner exchange of Klever's new partner Simplex, further deepening the collaboration between the three parties.
There will be two trading events to celebrate the KLV listing on DigiFinex.
1. Reward for new users
The first 200 new users who register during the event period will receive 1,000 KLV each if satisfying any of the following requirements according to the time of registration on a first come, first served basis:
Trading volume of KLV should be higher than 200 USDT.

Net deposit amount ≥ 10,000 KLV (net deposit amount = deposit amount - withdrawal amount)
2. Trading Competition
During this event, users whose net purchase of KLV is greater than 100,000 and ranks the top 20 will share 800,000 KLV according to the personal net purchase. (Net purchase = Purchase amount - selling amount)
Sincerely,
Klever.io Team