Klever Weekly Newsletter - October 23
Klever Update 4.0.9 was released and introduced support for Binance Chain & BNB coin, Travala (AVA), the option to display all values in 167 fiat currencies, new Swap pairs for major coins & much more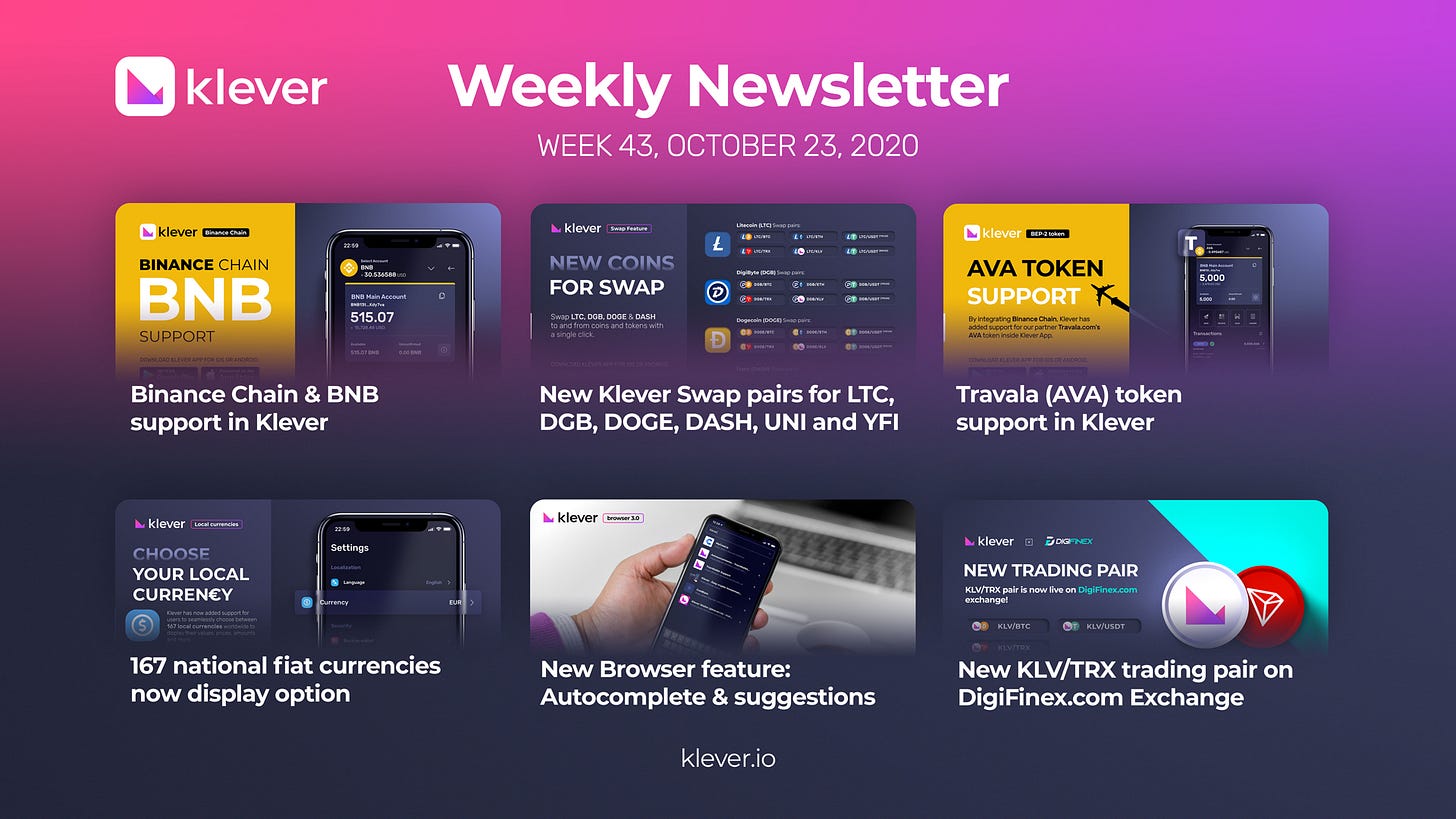 This week saw significant upgrades being made to the Klever wallet ecosystem as Update 4.0.9 released this week for iOS and Android. The update saw Klever roll out support for Binance Chain, BNB and all BEP2 tokens, introduced over 30 new Swap pairs for major coins such as LTC, DGB, DOGE, DASH, UNI and YFI, and launched a new feature enabling users to display their values and prices in 167 different fiat currencies.
Binance Chain & BNB support in Klever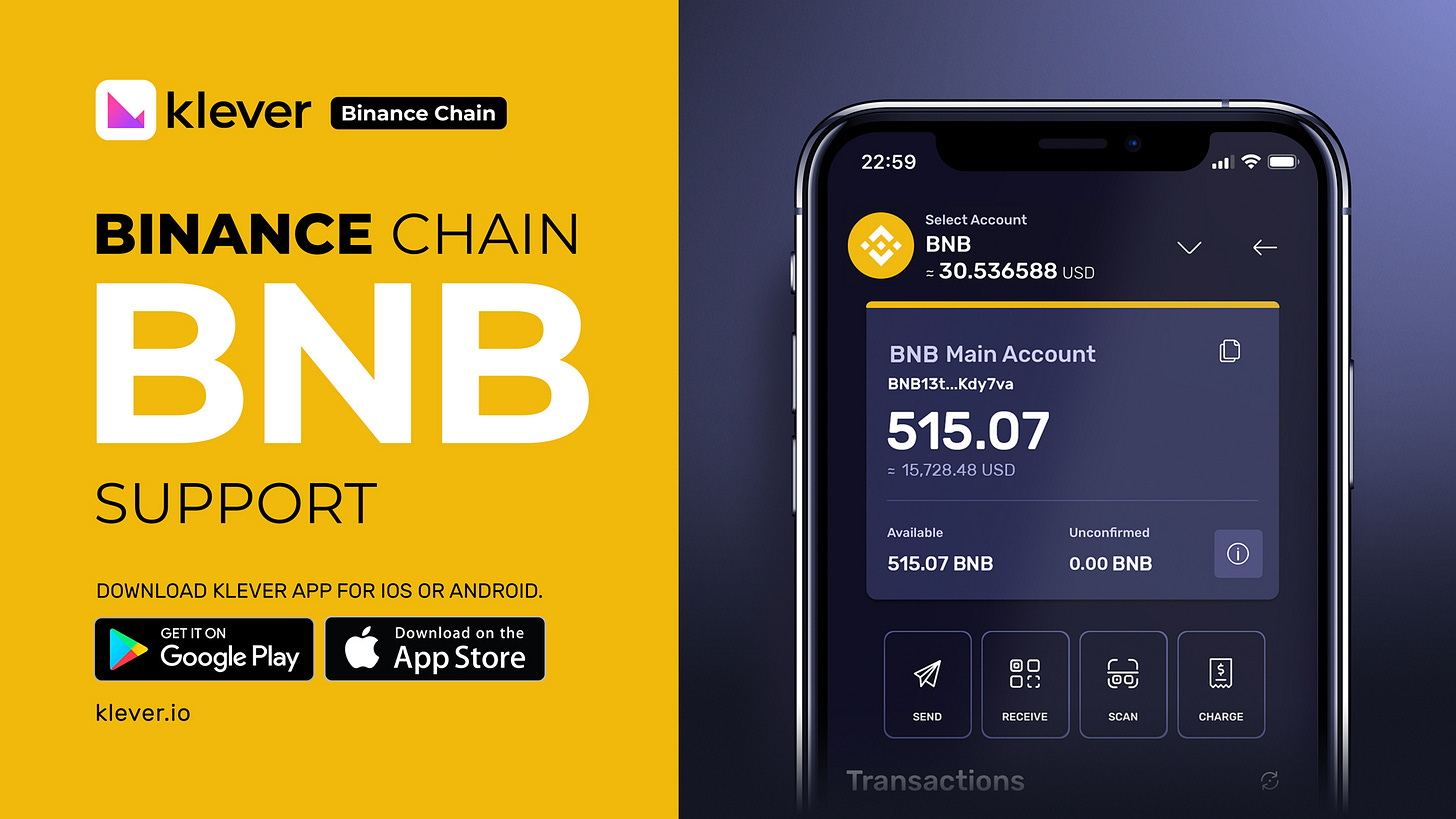 In Update 4.0.9, Klever app added support for Binance Chain and BNB coin, in addition to BEP2 tokens running on Binance Chain.
The addition of Binance Chain and BNB has been a long-standing request by the Klever community worldwide, and the Klever team is excited to add support for BNB and its sub-tokens into the Klever wallet ecosystem. The news of Binance Chain support added to Klever also caught the eyes of Binance CEO @cz_binance who tweeted about Klever.io's development.
The next step in the integration of Binance Chain is for Klever to add support for Binance Smart Chain, which also is able to sustain and house Dapps with smart contract capability.
---
New Swap pairs for LTC, DGB, DOGE, DASH, UNI & YFI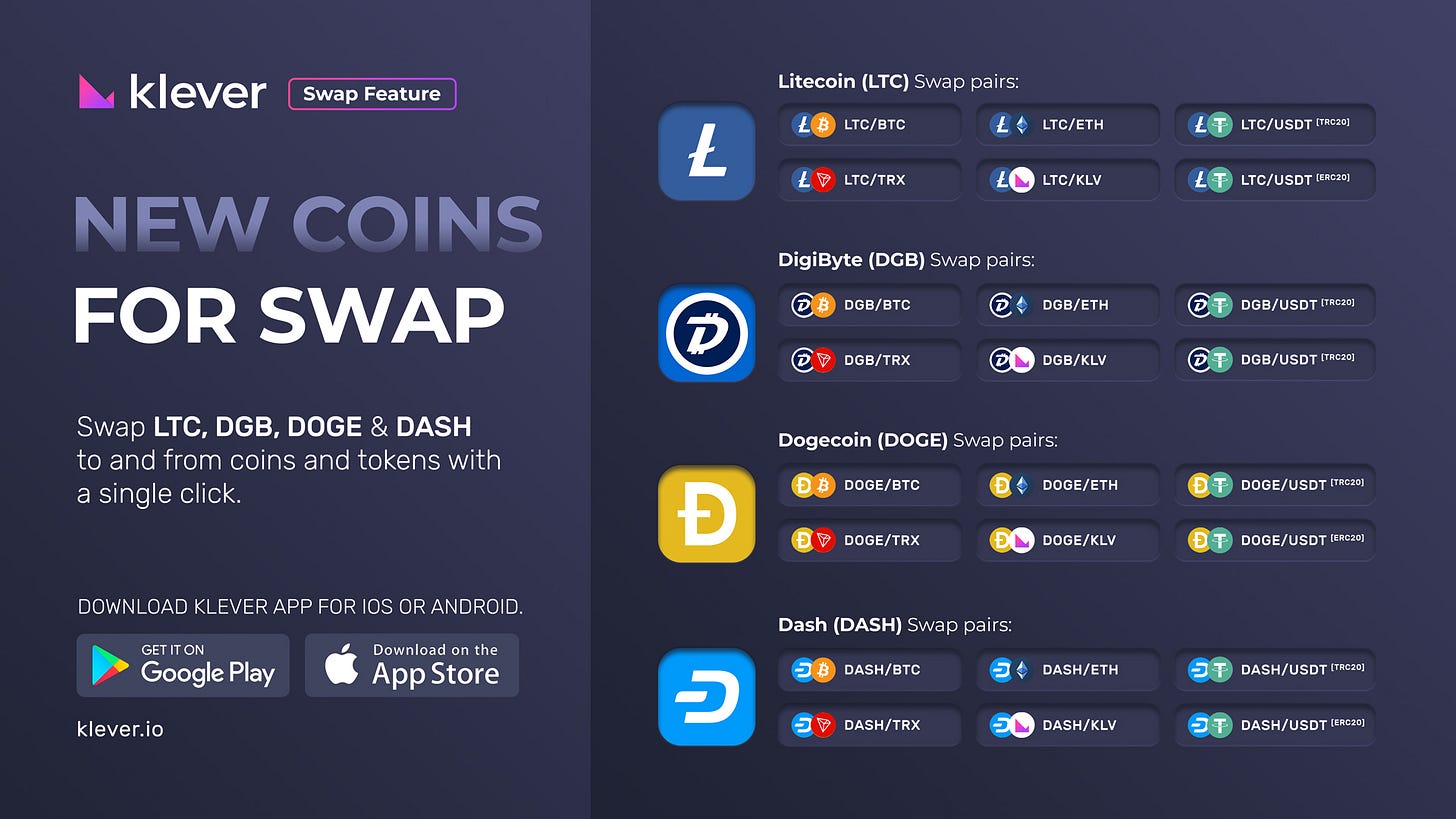 Update 4.0.9 also enabled new Swap pairs Litecoin (LTC), DigiByte (DGB), Dash (DASH) and DogeCoin (DOGE) in Klever Swap, with trading pairs to/from BTC, KLV, ETH, TRX and USDT.
Additionally, UNI, the token of Uniswap.org, was also added to Klever Swap with trading pairs to/from BTC, KLV, ETH, TRX and USDT. Uniswap is a popular decentralized trading protocol running on Ethereum, known for its role in facilitating automated trading of decentralized finance (DeFi) tokens.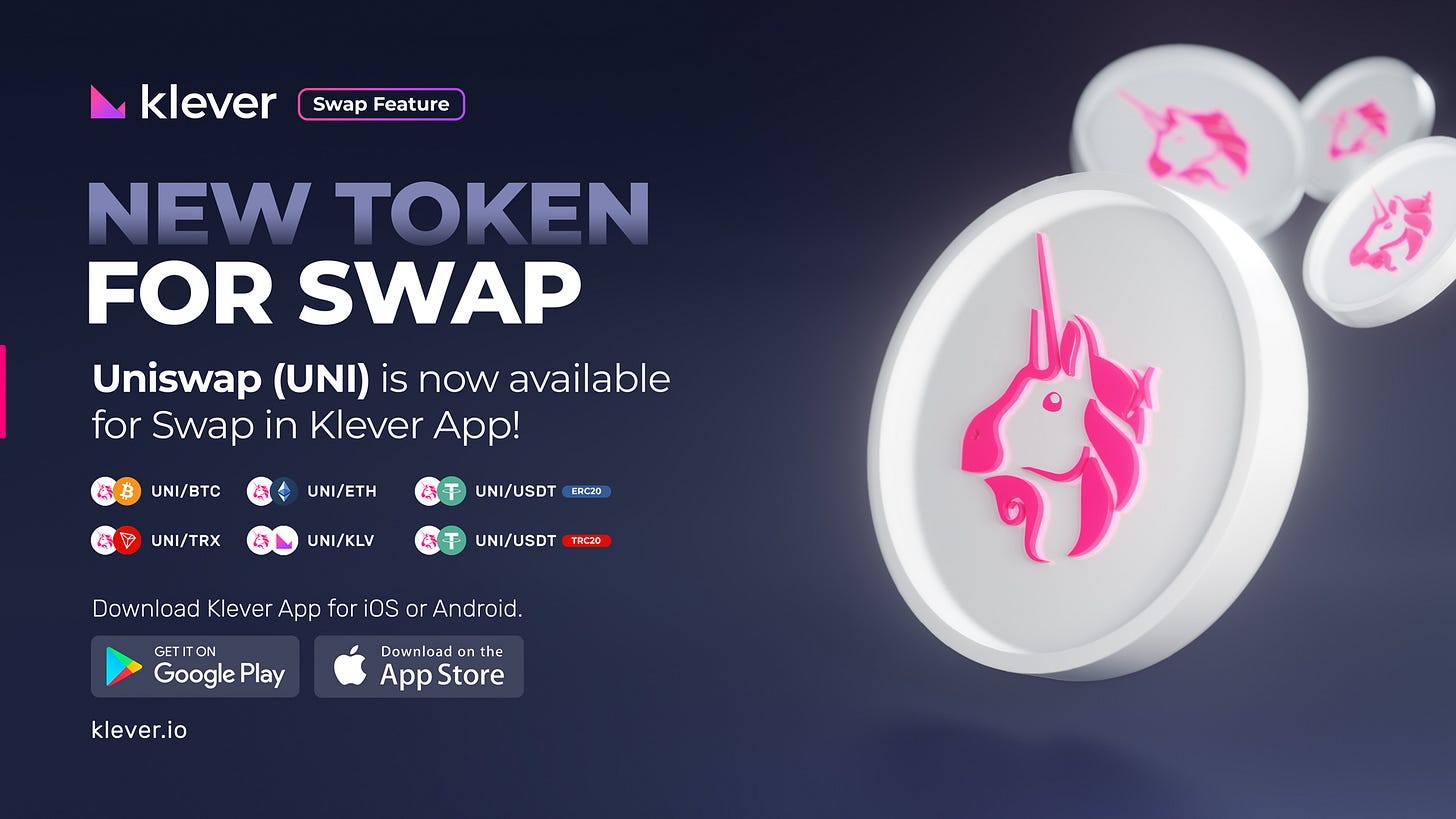 Klever also added Swap pairs for YFI, the token of yearn.finance, to Klever Swap. Yearn.finance is an aggregator service for decentralized finance (DeFi) investors, using automation to allow users to maximize profits from yield farming. YFI is an ERC20 token running on top of the Ethereum blockchain.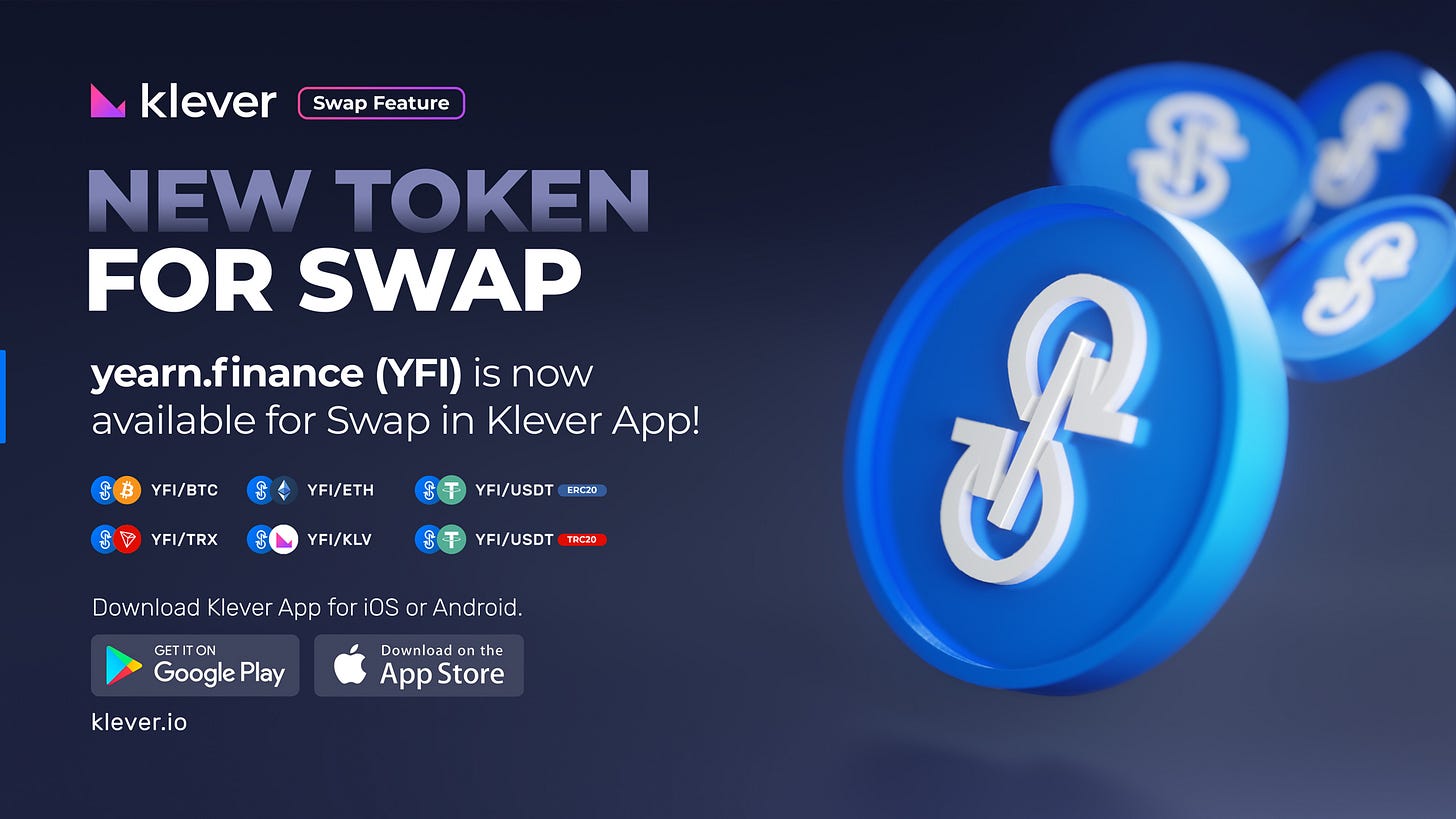 Klever Swap now offers direct swap pairs for over 200 trading pairs, saving users time and money by offering a convenient and fast way to buy and sell cryptocurrencies as a one-click solution.
---
Travala (AVA) token support in Klever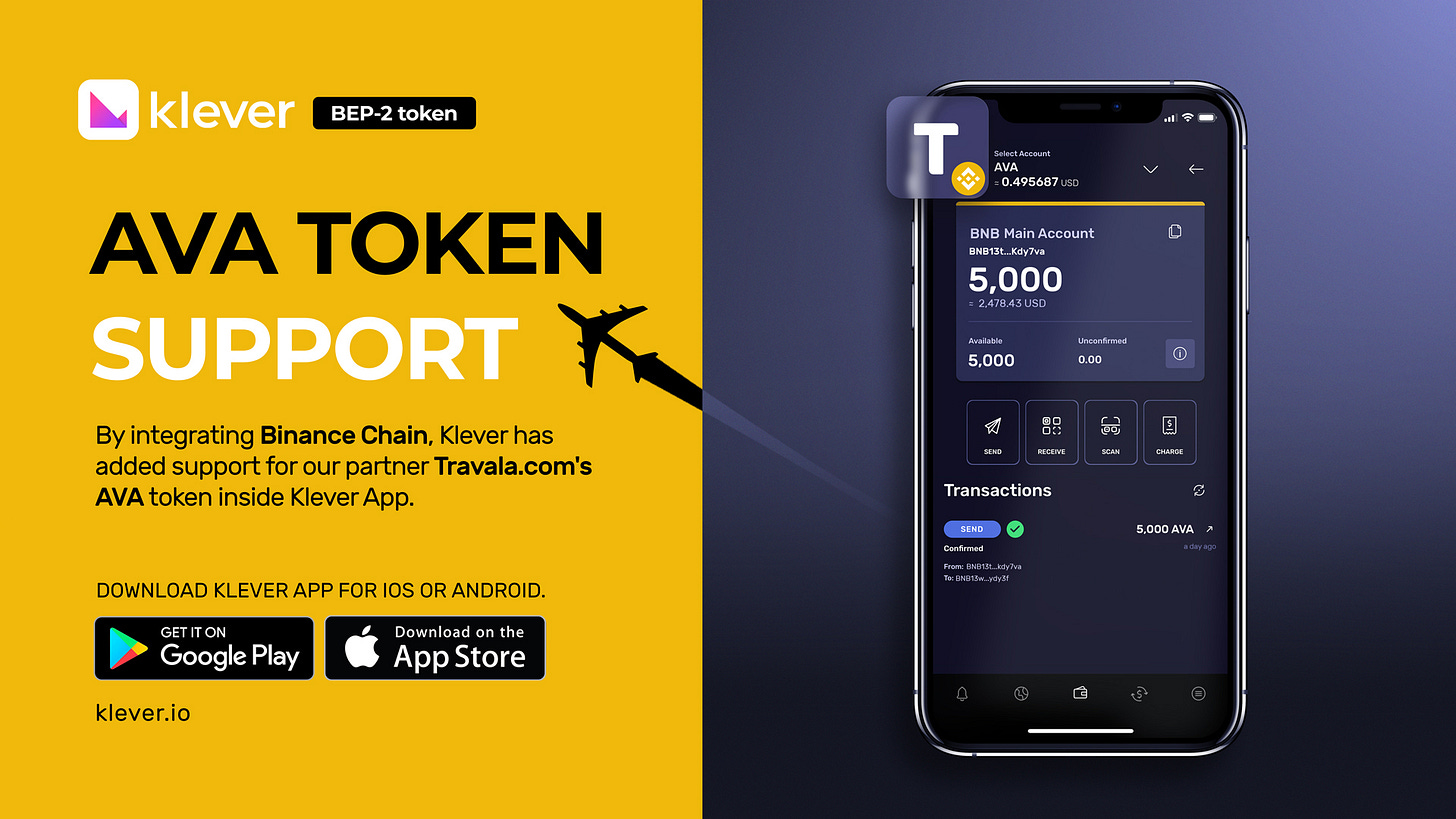 By integrating Binance Chain, Klever has also added support for our partner Travala.com's AVA token inside Klever, a token which runs on Binance Chain as a BEP2 token. This integration is part of the ongoing strategic partnership between Klever.io and the industry leader in crypto-friendly travel bookings, Travala.com.
Next step in the cross-platform integration is to add AVA Swap pairs in Klever, which will go live shortly in the app's built-in Swap tool, as well as adding KLV as a payment option to over 3 million travel options globally on Travala.
---
167 national fiat currencies now display option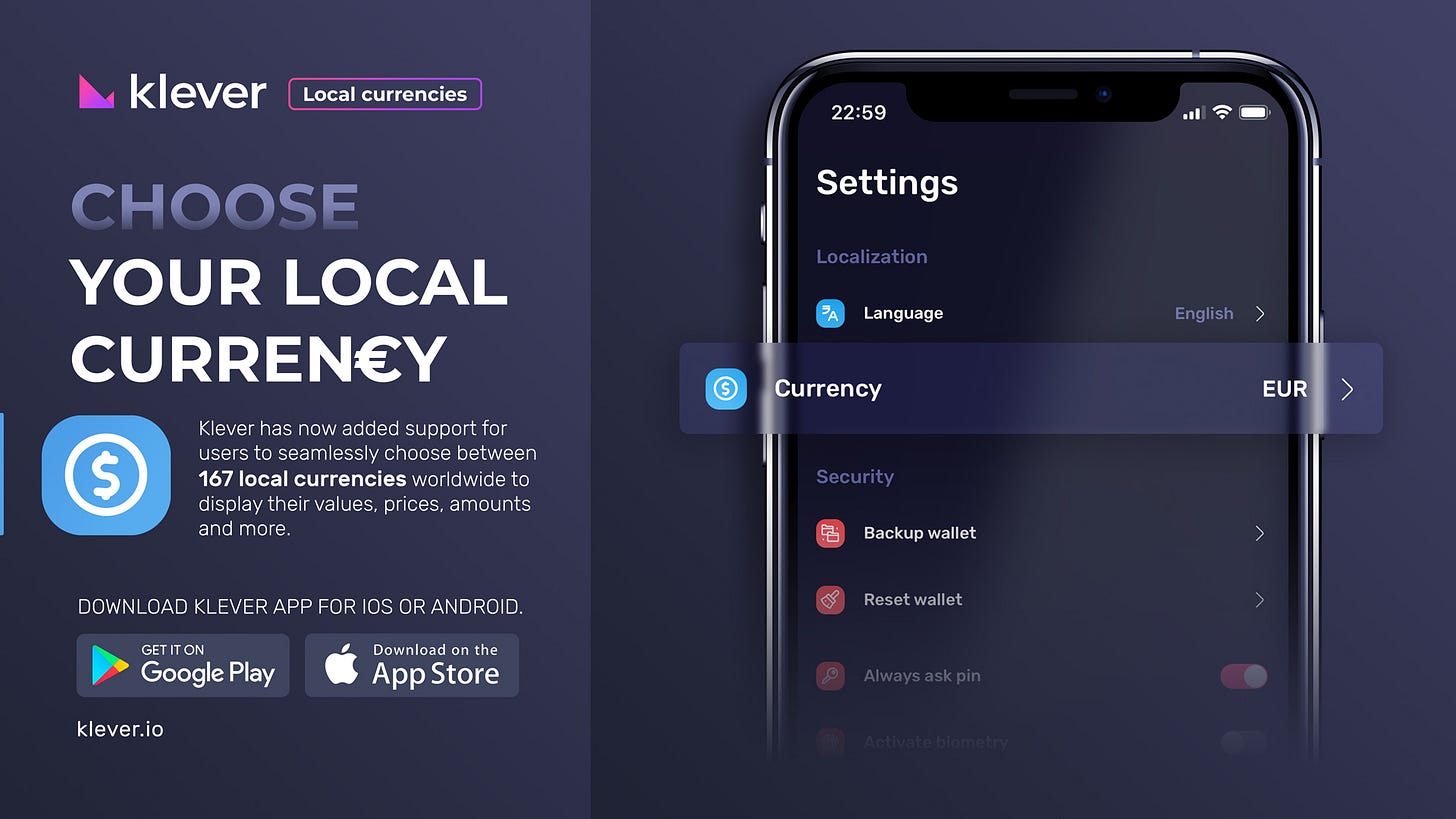 Klever also added support for users to seamlessly choose between 167 local fiat currencies worldwide to display their values, prices and amounts in Klever app.
The national fiat currencies available to display Klever users' values, prices and amounts include all the major fiat currencies of the world, to enable all Klever users to set their preferred local currency as default option in their own app.
---
New Browser feature: Autocomplete & suggestions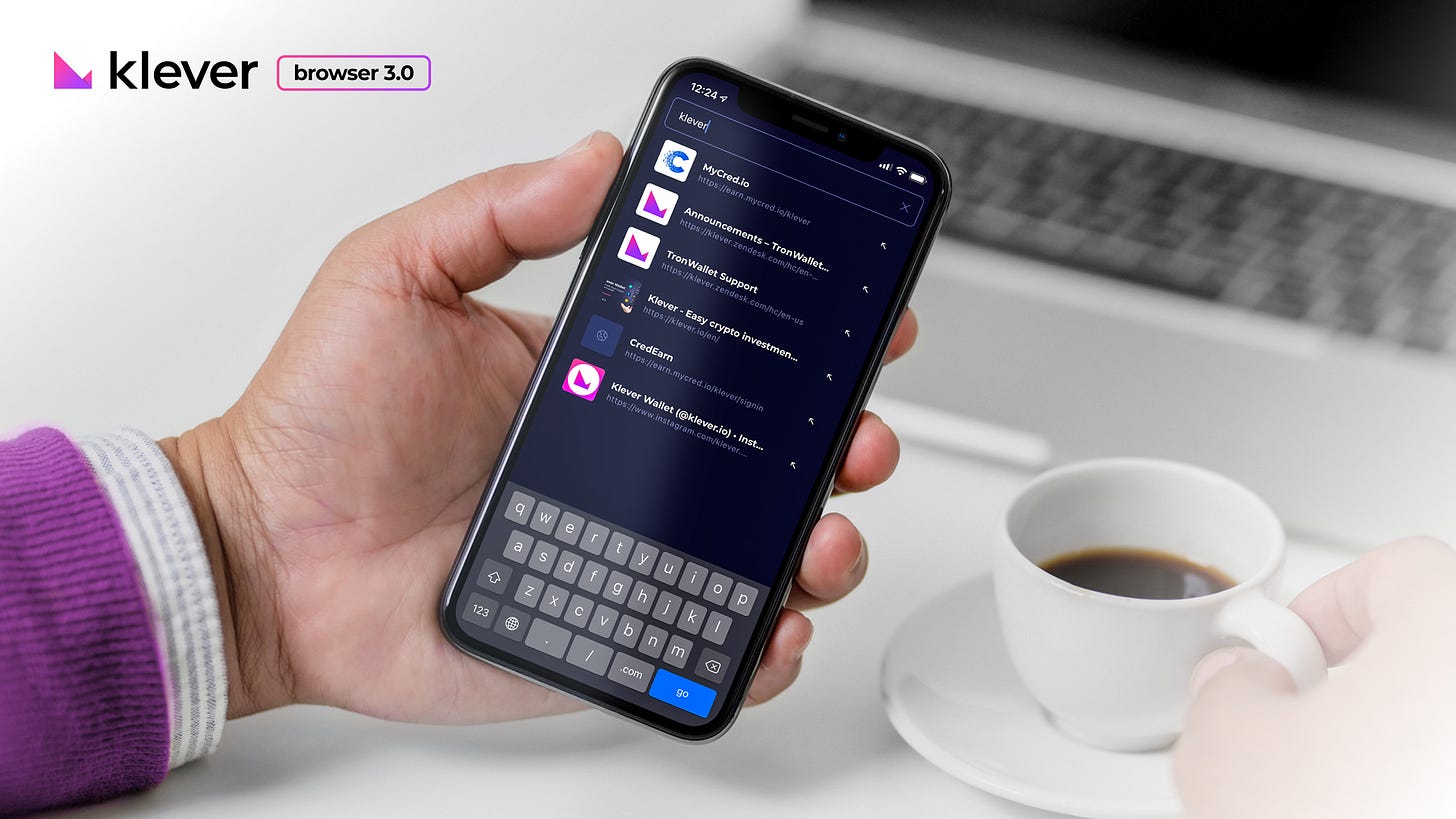 Through Update 4.0.9, Klever Browser now has a new feature that assists the user by autocompleting and suggesting popular sites and websites that the user often visits, further optimizing the personal user experience when using the browser.
---
New KLV/TRX trading pair on DigiFinex Exchange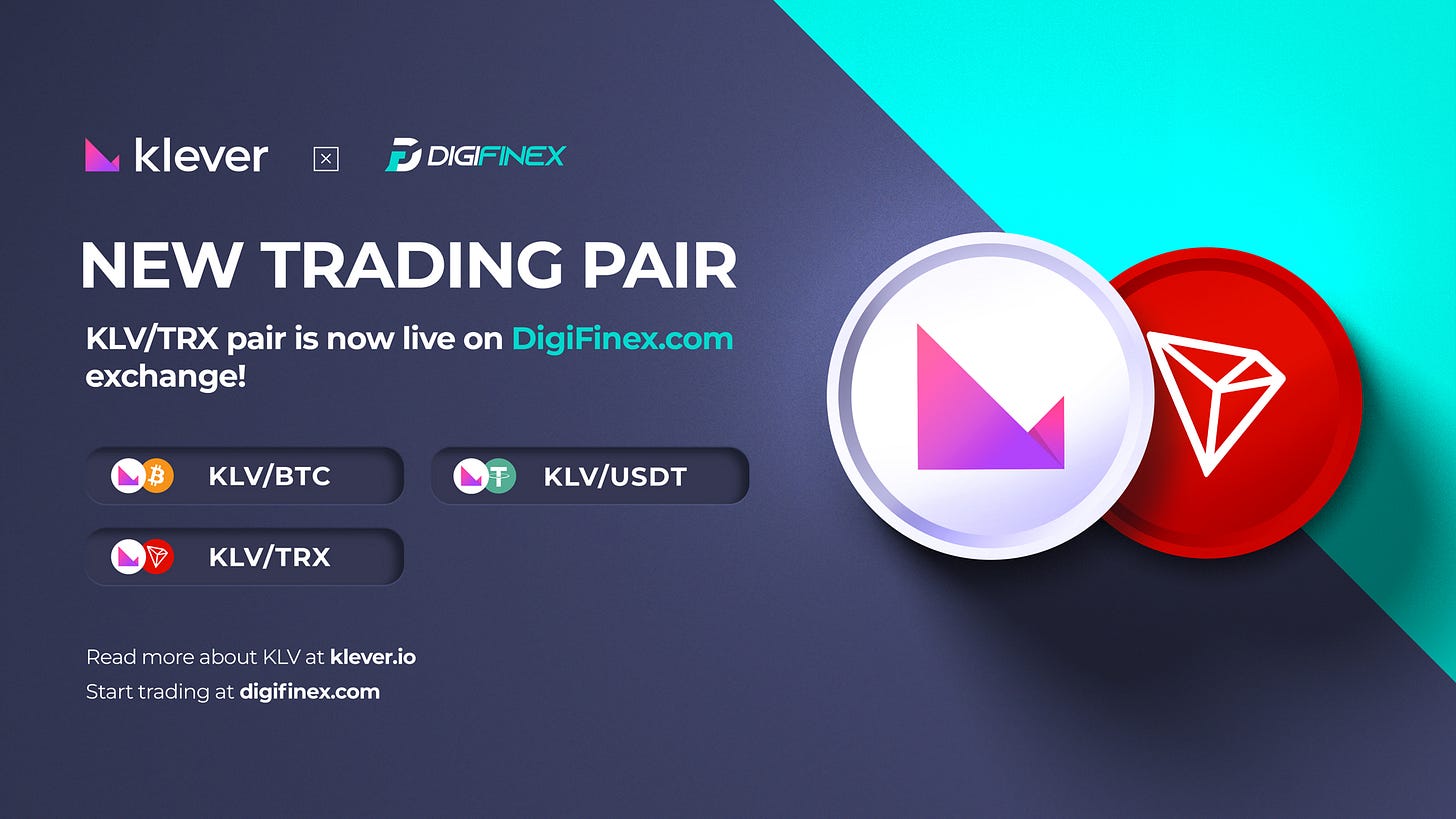 A new trading pair, KLV/TRX, went live on DigiFinex Exchange on October 23. DigiFinex, one of the partner exchanges of Klever, currently has three KLV trading pairs live, namely KLV/BTC, KLV/USDT and KLV/TRX.
---
Subscribe to our Klever Newsletter to never miss an update or announcement by clicking the button below and join the conversation by leaving a comment.
Sincerely,
Klever.io Team
Download Klever App