Klever Weekly Newsletter - October 16
The KLV token started trading on the Asia-based DigiFinex Exchange, Binance Chain & BNB Coin support went live in Klever Beta, Klever announced a partnership with Gokhshtein Media & much more.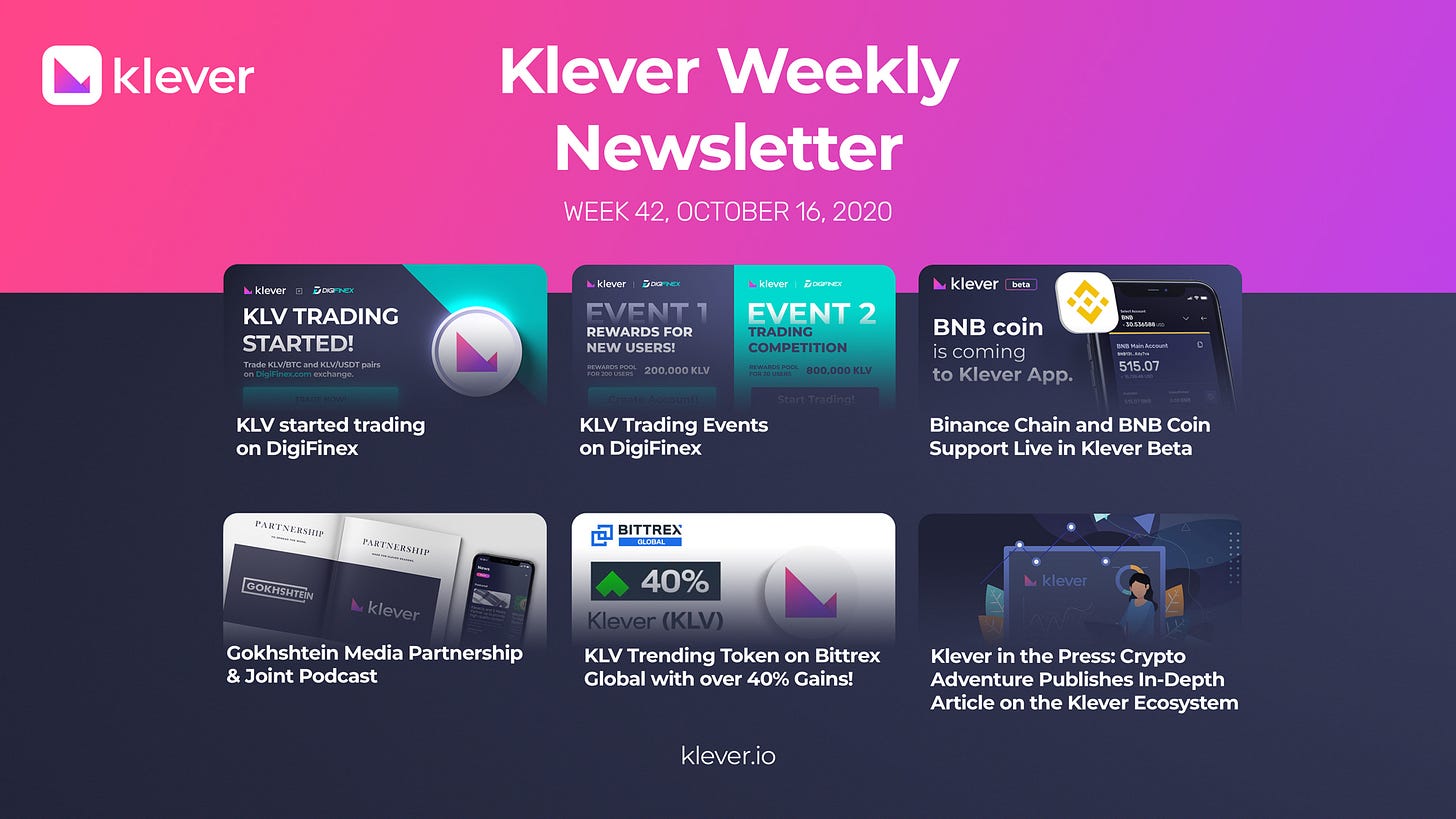 DigiFinex Listing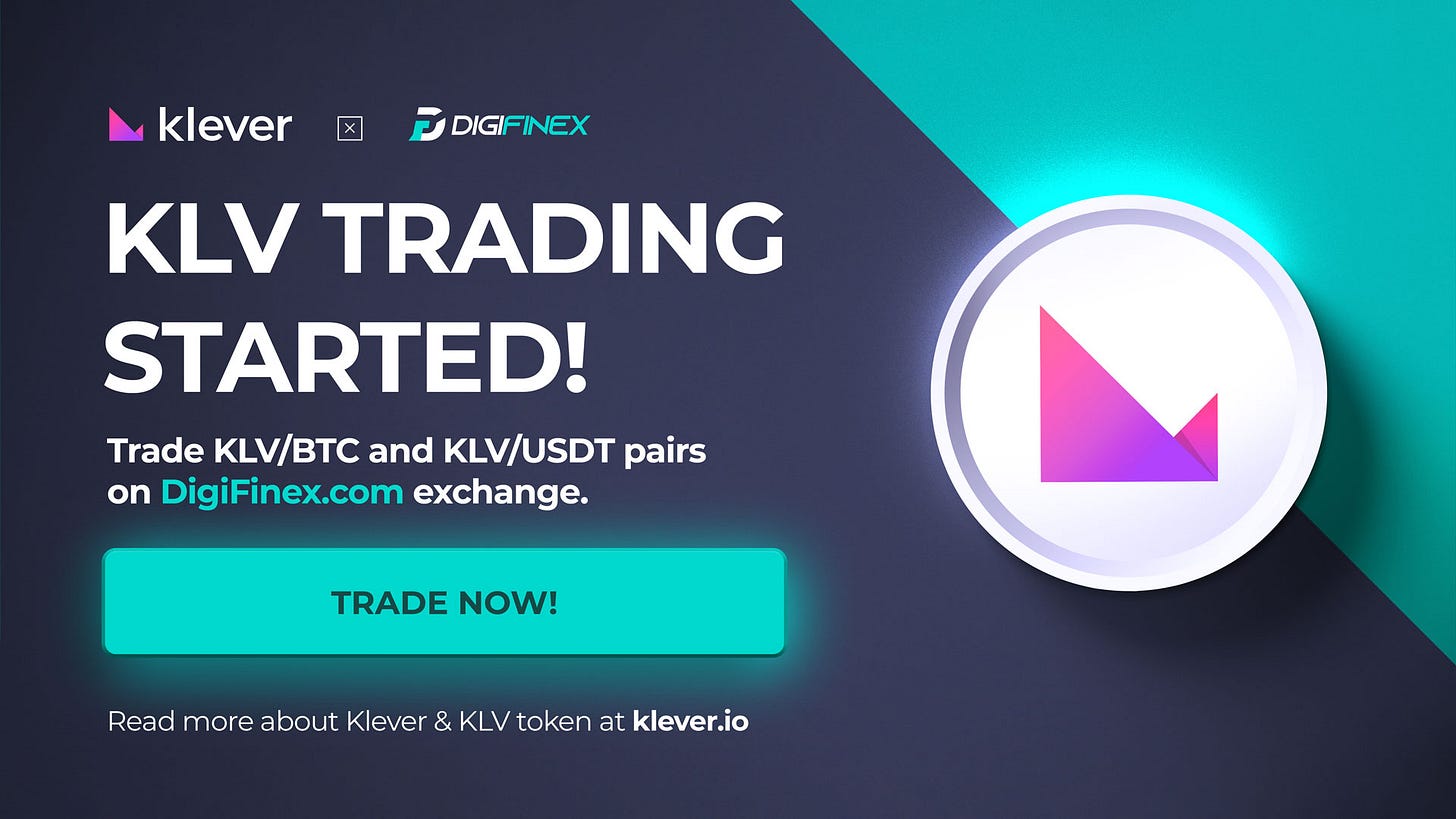 KLV started trading on DigiFinex Exchange on October 12, with two trading pairs: KLV/BTC and KLV/USDT. The KLV listing on DigiFinex is also part of the next stage of the partnership integration between Klever and Simplex to enable credit card purchases of KLV inside the Klever App, as DigiFinex is a partner exchange of Simplex, further deepening the collaboration between the three parties.
DigiFinex is Singapore's largest crypto asset exchange and one of the leading exchanges in Asia and Eastern Europe with over 4 million traders globally.
You can trade KLV on DigiFinex via the links below:
KLV/BTC: https://www.digifinex.com/en-ww/trade/BTC/KLV
KLV/USDT: https://www.digifinex.com/en-ww/trade/USDT/KLV
---
KLV Trading Events on DigiFinex
To celebrate the KLV listing, Klever and DigiFinex launched two trading events to reward traders with 1,000,000 KLV in total prize pool.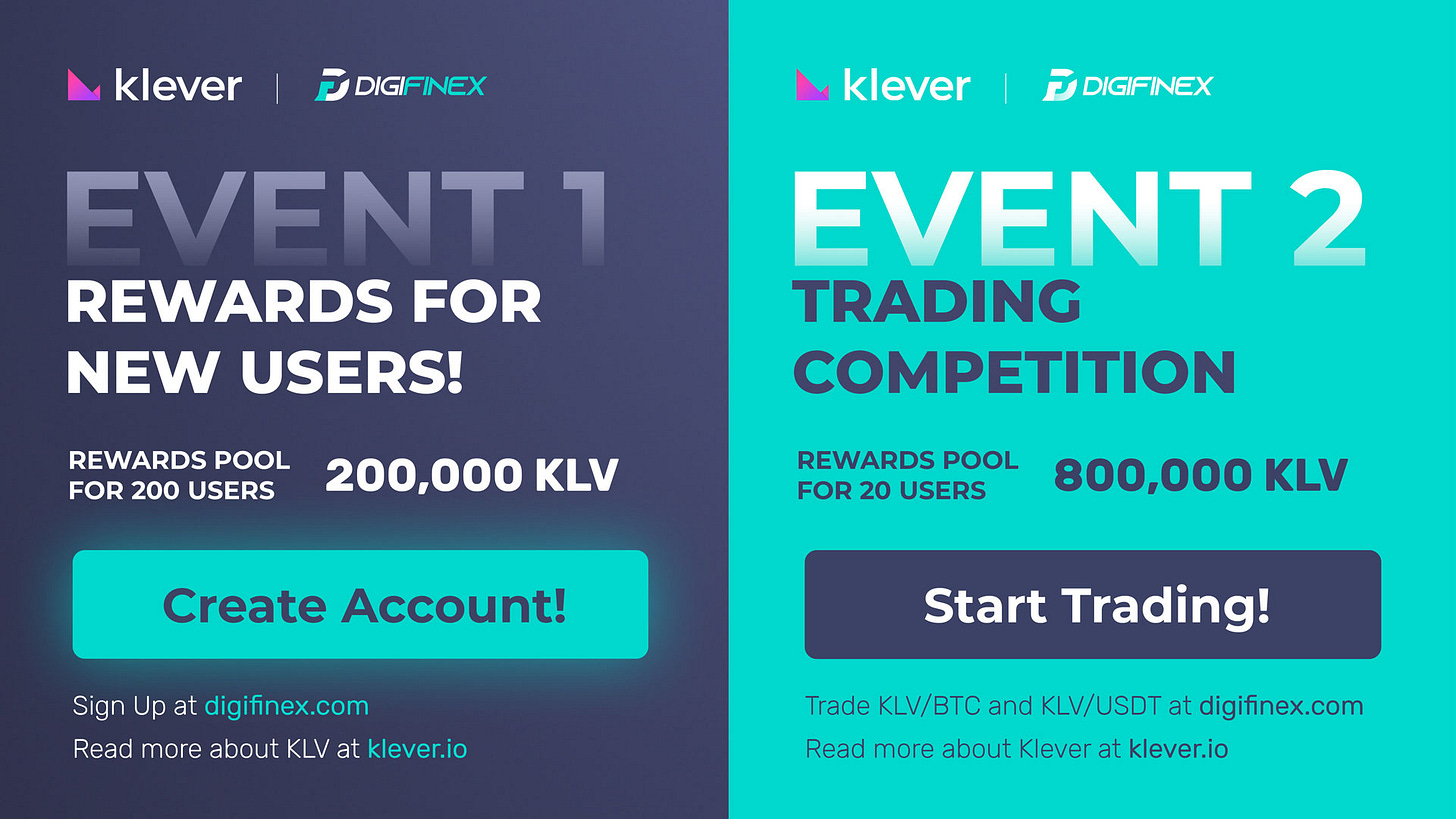 Event. 1: KLV Reward for new users
The first 200 new users who register during the event period will receive 1,000 KLV each if satisfying any of the following requirements according to the time of registration on a first come, first served basis:
Trading volume of KLV should be higher than 200 USDT.

Net deposit amount ≥ 10,000 KLV (net deposit amount = deposit amount - withdrawal amount)
Event 2: KLV Trading Competition
During this event, users whose net purchase of KLV is greater than 100,000 and ranks the top 20 will share 800,000 KLV according to the personal net purchase. (Net purchase = Purchase amount - selling amount). Prize pool is listed below:

---
Binance Chain & BNB Coin Support Live in Klever Beta
On October 14, Klever revealed in a tweet that Binance Chain and BNB coin are currently live and being tested in Klever beta. The imminent integration of Binance Chain and support for BNB-based tokens, such as Travala's AVA, is a significant milestone for the Klever ecosystem. Binance will be the eight majro blockchain supported by Klever, in addition to existing support for Bitcoin, Ethereum, Tron, Litecoin, DigiByte, Dash and DogeCoin blockchains.
Support for Binance Chain and BNB will not only enable the integration of the partnership between Klever and Travala, as well as adds Swap pairs for BNB and AVA inside Klever App, but makes the growing Binance Chain's list of tokens and services available for Klever users worldwide.
---
Gokhshtein Media Partnership & Joint Podcast
Klever announced a partnership with Gokhshtein Media by @DavidGokhshtein to provide high-quality content in Klever News, a soon to be launched new in-app feature driven by AI that will provide crypto news, top content & blockchain data.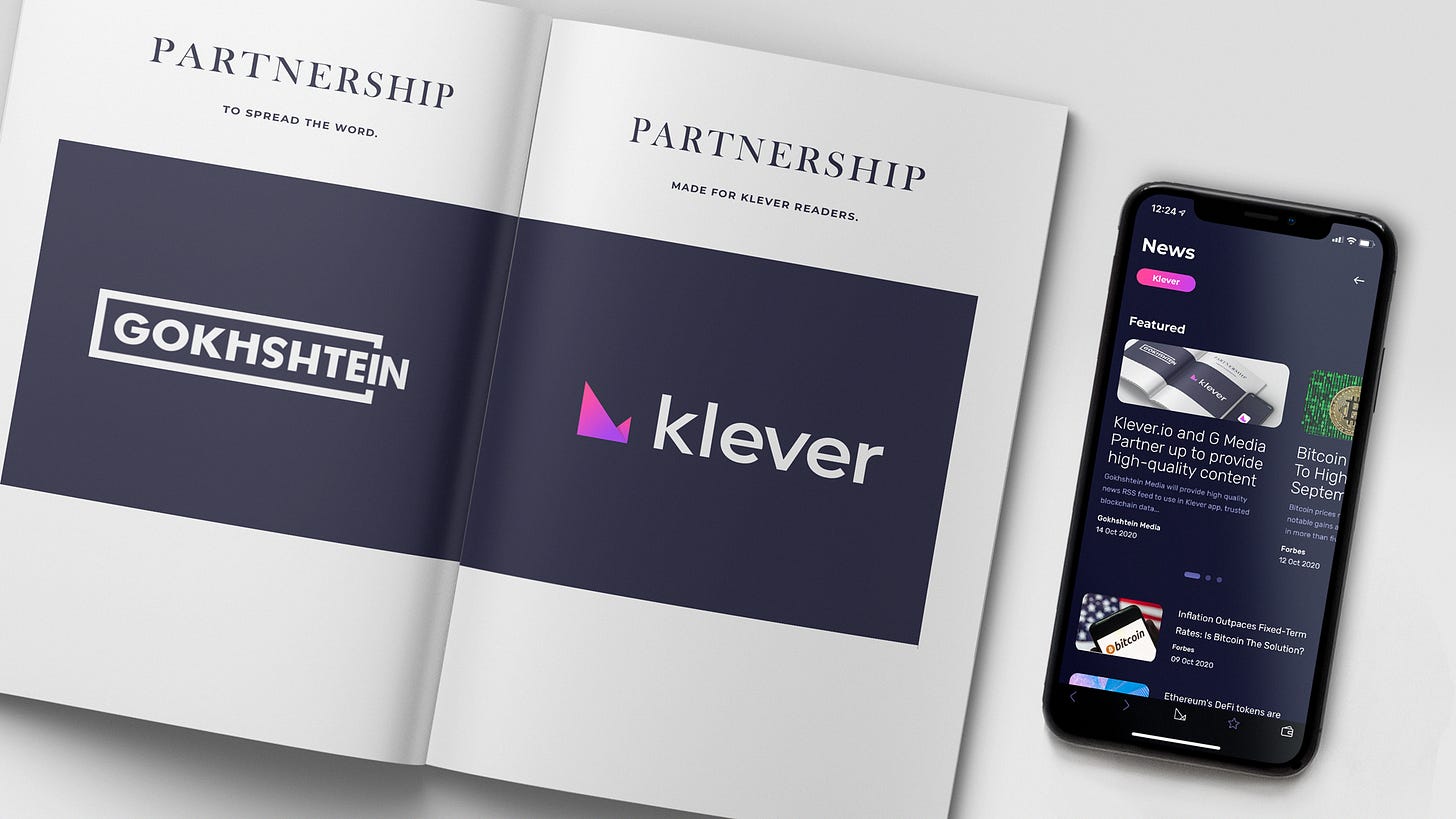 The partnership announcement came during a joint live podcast between Klever.io's Misha Lederman and David Gokhshtein, watched by over 8k viewers so far. During the podcast, two emphasized on the importance of Klever News' future role in blockchain education, enabling easily accessible crypto news seamlessly in Klever App and the growing role of the community in creating content and educating other users of the benefit of the Klever ecosystem and blockchain technology as a whole.
Other topics during the podcast included the AI-driven nature of Klever News, BNB integration, XRP blockchain support to be integrated into Klever beta this month, new coins for Klever Swap, imminent integration of Ethereum Dapp Browser support in Klever, as well as ongoing Klever Labs in Klever Exchange, Klever Browser and Klever Blockchain.
You can watch the full podcast in the link below: https://www.pscp.tv/w/1lDGLyLgLkzJm?t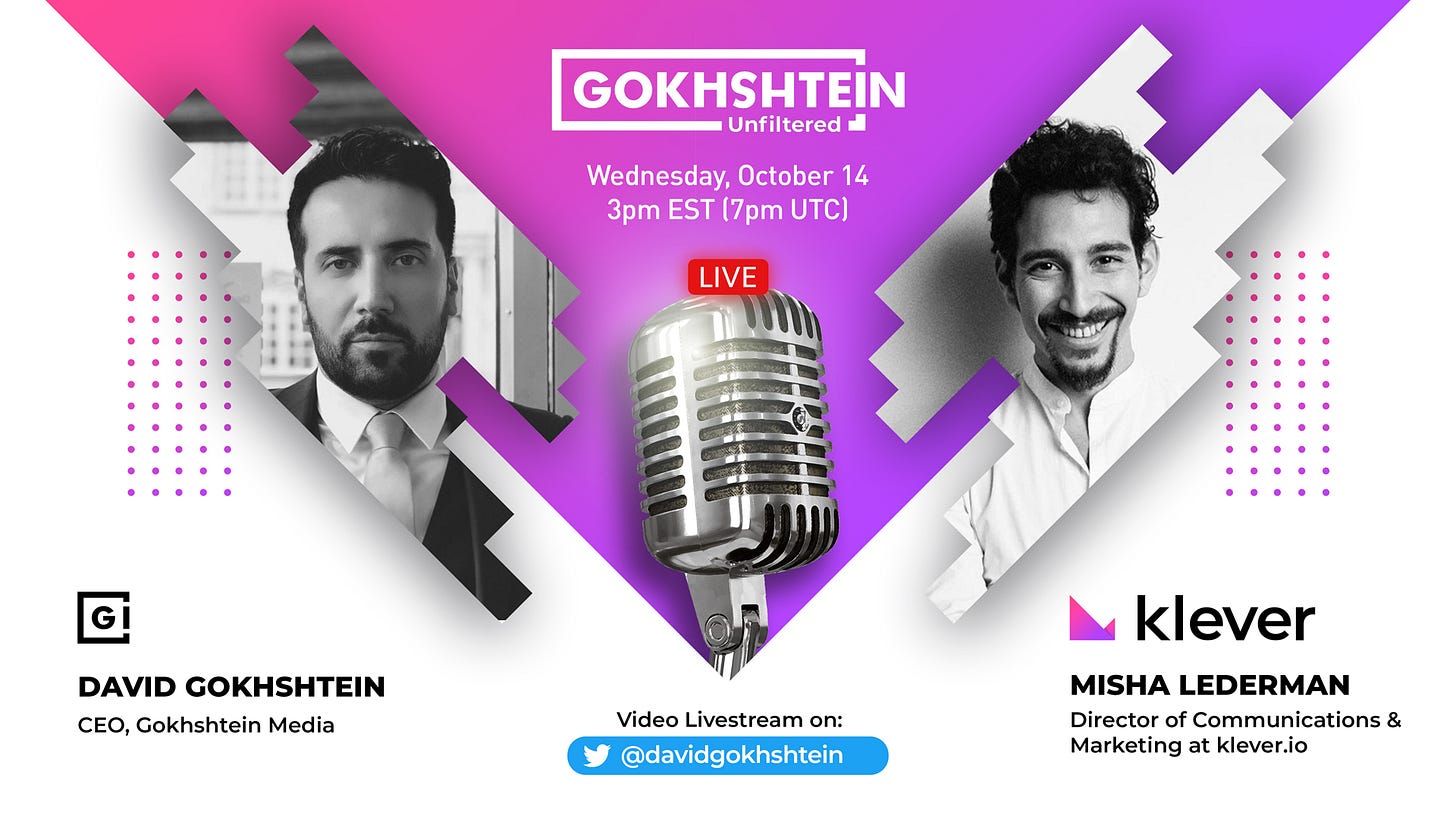 ---
KLV Trending Token on Bittrex Global with over 40% Gains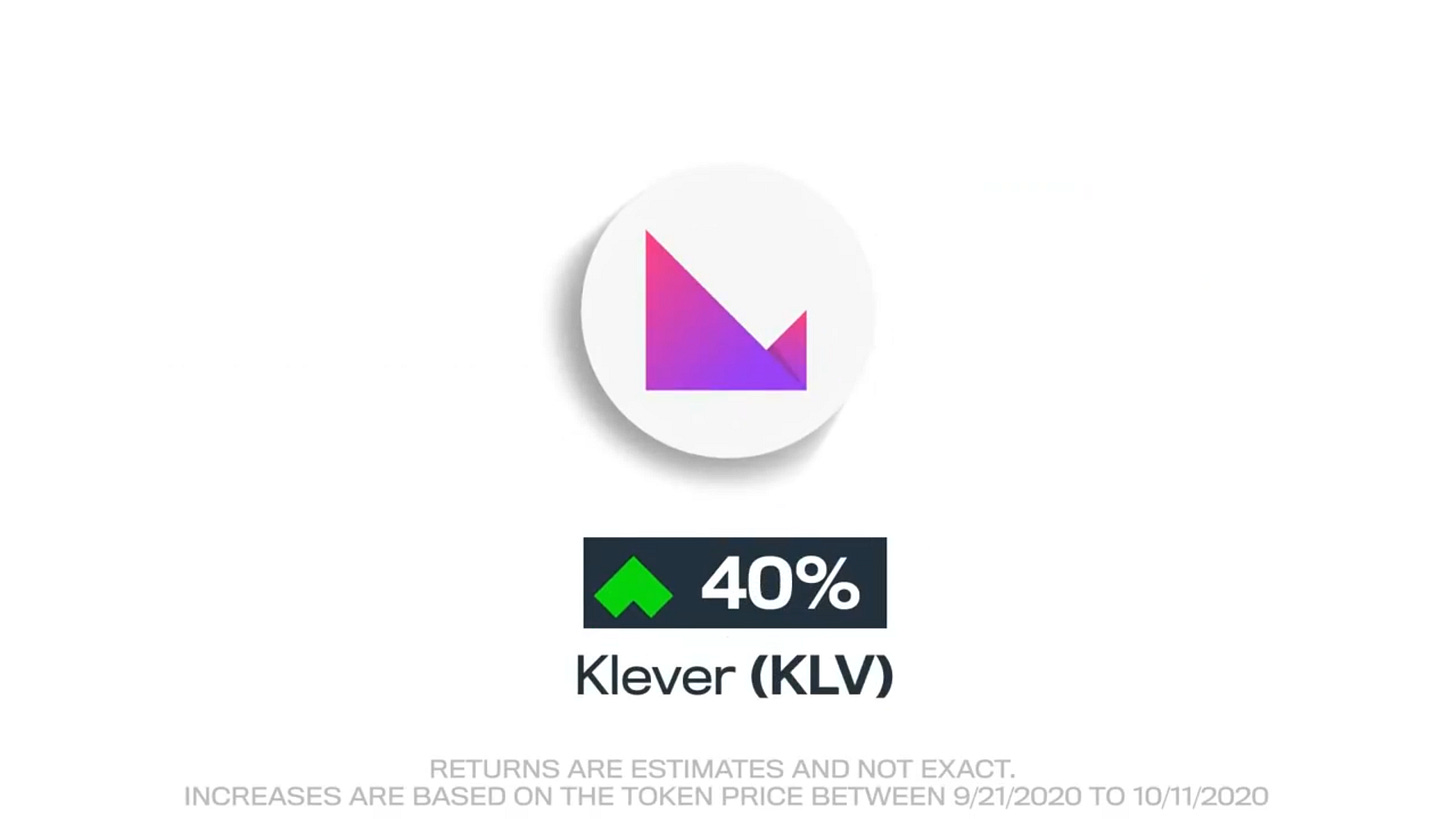 On October 14, Bittrex Global, one of the Top 10 exchanges in the world and first top-tier exchange that Klever listed the KLV token, posted that KLV is a trending token on Bittrex with over 40% gains. Bittrex also praised Klever for the wallet's easy token swaps and managing users' portfolio in a multi-asset wallet.
---
Klever in the Press: Crypto Adventure Publishes In-Depth Article on the Klever Ecosystem
The reputable blockchain media outlet, Crypto Adventure, published an in-depth article on Klever dubbed "Klever – The Next Generation of Crypto Wallets." The piece outlined the growing set of features of Klever, KLV staking, Klever Swap, Klever blockchain browser, crypto portfolio, multi-account feature, referral program, KLV stablecoins and more.
"Klever is a full spectrum blockchain wallet that pushes the boundaries of usability & functionality to new heights. Klever represents a shift in the prime features devs include in their wallets. You can expect to hear a lot more from KLV as the Klever network expands," said an excerpt from the article.
Subscribe to our Klever Newsletter by clicking the button below and join the conversation by leaving a comment.
Sincerely,
Klever.io Team
Download Klever App