This Week's Trending Crypto Topics
Read the top news about Crypto & Blockchain this week.
---
🔥 Trending Topics
Discover the latest trends that impact and advance our Klever ecosystem.
---
📽️ Klever Insight
Discussing the world of Bitcoin, Klever Ecosystem, NFTs, DeFi and all things #crypto in this brand new video series. Subscribe to our YouTube Channel.
---
📌 Keep Reading #BeKlever
Read crypto topics best discussed over coffee with friends.
---
💜 Top Social Posts
The most engaging moments on social media.

#BlackFriday
: 100% Rebate on
#KleverExchange
fees ⏳ Nov 26 (2 PM UTC) - Dec 3 (Midnight), 2021
klever.io
- Anyone can
#trade
#crypto
! Read more in
#KleverNews
⤵️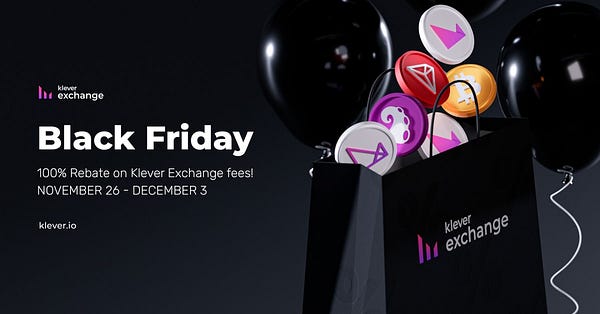 Black Friday offer launches on the Klever Exchange
100% Rebate on Klever Exchange fees, November 26 - December 3, 2021
news.klever.io
---
Have you experienced our new global Klever Exchange yet?